Success Stories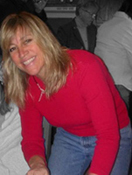 "While this may sound silly I really want to thank you so very much for making me feel happier "in my skin". I've learned so much from you not only the eating plan and exercise but the pep talks you gave were invaluable. I promise to take care of myself and to breathe and stay healthy"
Noreen - Elementary Teacher
"I have been on every diet ……counting calories, Nutra System, Weight Watchers, and even an all vegan diet. The Be Happy in Your Skin Plan is so much easier and effective. I know I will continue to lose weight and be in control. The program is upbeat and fun. Thank you for your encouragement and understanding."
Lisa - Professional Planner
"I was a participant in Carla's "Be Happy in Your Skin" 6 week program recently. It was chock full of easy to follow, makes sense to me ideas. My big take-away was the session on exercise. Following a severe and long healing foot injury, I found my spirit willing and the flesh still a bit weak. With very low stamina, I was able to do, literally, a minute or two of exercise several times a day. Adding a little more time and increasing the frequency adds up to a goodly workout. Thanks, Carla."
Nurse Crilly
"I enjoyed your workshop. It taught me a lot about how to eat and lose weight without feeling hungry. I eat healthier now and I am continuing to use the tools that you taught me how to use. You are a great natural speaker and your wit is incredible. I enjoyed coming just because I knew I was going to laugh!"
Jana - Education
"Carla, as a grown woman, this is weird to acknowledge - but thanks for your Diaper Bag strategy! I was on the road, famished, $3 in my pocket, telling myself 'no' to the BK dolar menu... when I remembered I had my Diaper Bag of consumables from your program!!! One lemon-pepper tuna pouch later, some water and a handful of almonds - I was satisfied, satiated and feeling good! You rock!"
Penni - Training Professional
"Carla has shown me that eating more frequently and actually more calories helps me lose weight and feel great. Listening carefully to Carla's anecdotes and adopting this lifestyle is making me happier in my skin. I will continue until I reach a weight that is healthy for me."
Mary - Business Owner
"Thanks for the anecdotes and personal stories, you made this very enjoyable. This is a plan I can live with"
Susan - Teacher
"I was skeptical about actually losing weight while eating a good amount of food but it worked!!"
Anonymous
"this program makes so much sense! I am thrilled with the results! Thanks Carla"
Anonymous
"Just wanted to check in about the success I have obtained working Carla's plan. I just cannot say enough about the private coaching, I am very busy and travel quite a bit so I don't time for "meetings"... However, my numbers were going the wrong way on both the scale and the blood pressure monitor. My BP was dangerously high, and I was very dizzy and had ringing in my ears. Carla is both tough and loving, and always encouraging, she was able to work out my food choices because I am very picky eater, so she met me on my terms and likes so I could follow the program very easily. I lost weight through the holidays, my BP is down and have to say handle stress much better... the best is having energy and eating lots! Every week becomes a little easier, becomes more of a way of life and I keep losing."
Kate Hug - Mother of 3 - Equestrian
"Carla is great. I have learned to change my eating habits and feel great! I feel the Good part of the program is learning, the better is learning how to mediate and relax and enjoy life more. The best is the cooking class. Tasting real foods and they are all with in the program.
Thanks Carla for sharing with me and making my life better."
Ellen - business owner
"I have never felt so much control over my eating habits as I do now."
Isabelle - long time WW member and Teacher
Here is what folks say about Carla
"I've never eaten better in my entire life and that is 65 years. I feel better especially arthritis wise."
"Your inspiration is priceless"
"Thank you for the inspiration and 'unique' support. I laughed every day."
"I really had my doubts but I was pleasantly surprised."
"Your enthusiasm for the 'plan' made a difficult job so easy! The weight loss and the inch loss and the new and now life long attitude toward 'diet' has made a lasting change in my life."
"So many transformations in so little time! You have done a wonderful service to so many of us."
"You have helped me stay committed and lose weight... this is a miracle."
Fun Stuff For Members Living the Plan | Video Clips and Media | The Highly Anticipated Book
Share Your Success.
Be Happy in Your Skin
Share your success stories. Send them via email to CJ@BeHappyInYourSkin.com and put "Success Stories" in the subject line.
"One of the pitfalls of following The Plan... you are walking in a public parking lot and Voila! your pants start falling down and they take your undies right along with them." Mary E. Murphy

Click to